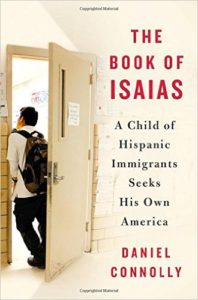 Journalist Daniel Connolly has just written a new book, The Book of Isaias: A Child of Hispanic Immigrants Seeks His Own America."
The book is the culmination of five years of research and interviews with children of immigrants in the United States.
Connolly follows Isaias Ramos, an 18-year-old high school student, and his friends as they weigh options for their future. Connolly discovers that for the Hispanic teens, the options quickly fizzle out.
Finding a place in American society for a child of Hispanic immigrants isn't as easy as people think.
In an interview by Seth Ferranti, VICE recently spoke to Connolly about his experiences writing the book, what he sees as the major immigration challenges of today, and how they affect the children of Hispanic immigrants. You can find the article here >>> How America Lets Down The Children Of Immigrants.